Are you considering undergoing surgery for a much faster external hemorrhoid treatment? Here are 4 popular surgeries that most sufferers are often recommended.
"Learn Who's #1 for getting rid of hemorrhoids." Click here.
Most Popular External Hemorrhoid Treatment – Hemorrhoidectomy
This is a very commonly suggested method to treat hemorrhoids of severe cases which requires immediate removal, by making incisions on your tissue. The surgeon can either use a scalpel (surgery knife), a cautery pencil (electric device) or a specialized laser.
This procedure is done in a surgery room, though you can usually go home on the day of treatment itself.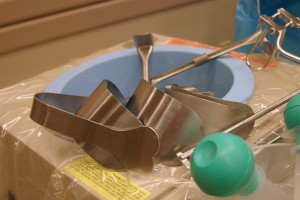 It works for both external and internal hemorrhoids treatment, but it tends to be very painful even after a successful operation. In fact, it is well-known to be an excruciating treatment. Most patients need analgesics after operation.
Although its risks are considered relatively low, it generally has more risks of complications as compared to other hemorrhoid surgical methods.
An outpatient hemorrhoidectomy performed in an ASC (ambulatory surgery center; basically outside of hospital) costs around $3000. If performed in a hospital, it will cost around $5700. However, prices can vary drastically between different states and countries, and the coverage from insurance and government subsidies.
Infrared Photocoagulation
This can be done as an outpatient treatment, which means you can have it done at your doctor's clinic or office without having to be hospitalized.
Infrared light beams are directed onto the hemorrhoid tissues, which will be converted to heat. This heat breaks down your tissues, and thus make the swollen veins clot (which is to coagulate). Blood is unable to flow into it via the arteries, thus the tissues inside will die due to the lack of oxygen and nutrients. This lump will eventually fall off and pass out together with your feces.
You will feel some pain after the operation, and recurrence rate is 15% on average, but fortunately this surgical treatment for piles is generally safe and can be repeated with minimal risks.
This method costs approximately $500 per treatment. Most patients will need to undergo about 4 sessions in total, so it will actually costs about $2000 for a full recovery.
Laser Coagulation
This is also another popular outpatient method, thus you can leave the clinic on the day that you are treated.
Laser coagulation is a newer surgical method where the surgeon uses an electrode laser probe to pass an electric current into your hemorrhoids. This stops the blood flow to the hemorrhoid as the electric activates a chemical reaction, so that it will shrivel up and coagulate.
Laser Therapy
Another outpatient surgery, this method is more suitable for external hemorrhoids treatment where they can be easily targeted. Similar to the concept of laser coagulation, this therapy stimulates heat inside the hemorrhoid tissues to make them clot. A local anesthetic will be used.
You can choose between 2 specialized lasers, either the carbon dioxie (CO2) or the neodymium:yttrium-aluminum-garnet (Nd:YAG) laser. The Nd:YAG is more popular as it can reach deeper into your hemroid tissues, and make them clot more effectively. This laser can even be adjusted to a higher concentration, so that your entire hemorrhoid can be vaporized straightaway if it is small and mild enough. It's like one of those outer space battle movies, where you see people using a laser gun to vaporize their enemies.
Generally local anesthetics (numbing drugs applied at your surgical area) will be administered.  Surgical procedures can be generally costly for curing hemorrhoids, with the most expensive ones going for beyond $10,000!. Even though they deliver much faster results, they are generally left as the last resort for more severe cases, like Stage 4 prolapsed hemorrhoids, and always come with uninsured risks. You should try out a guaranteed, natural home remedy for FREE first before spending $3000 on an unguaranteed surgery.