When it comes to food for hemorrhoid sufferers, we want to focus on food that can ease constipation. After all, constipation is one of the biggest contributors to hemorrhoids.
This means we need fiber-rich foods which make our stools easy to pass. By easing up constipation, they help with our hemorrhoid treatment and prevent recurrence.
There are generally two types of fiber:
Soluble fiber – Commonly found in beans and oats, it dissolves in water to form a gel-like substance which can be helpful lowering blood cholesterol and glucose levels
Insoluble fiber – Promotes movement of material through your digestive system and increases stool bulk, benefiting those who struggle with constipation or irregular stools.
We'll be incorporating both fibers into our recipes for treating hemorrhoids. But don't worry, a fiber-rich diet doesn't mean it will be boring.
Follow these quick 15-minute recipes to give yourself and your hemorrhoid a hearty treat! Let's start from the appetizers.
Appetizers
Easy starters to whet your appetite.
1. Carrot and Avocado Salad
This salad is mainly served alongside main foods and is rich in vitamin A that is needed by pregnant women.
Both carrots and avocado are rich in dietary fiber especially the insoluble fiber that softens stool and increases their bulk which helps to avoid straining that can worsen hemorrhoid symptoms during bowel movements.
Ingredients
1 large peeled and diced avocado
4 peeled and grated medium carrots
Dash of balsamic vinegar
Sunflower seeds, to taste
Salt and freshly ground pepper, to taste
Directions for preparing
Add the avocado and grated carrots in a medium salad bowl then sprinkle with salt, pepper, balsamic vinegar and sunflower seeds.
Cover and refrigerate for a few minutes before serving. Alternatively, the carrot can first be roasted before adding to the salad.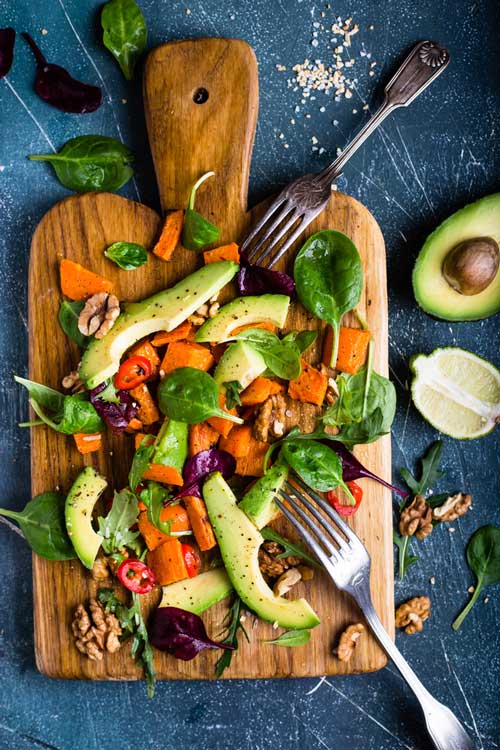 2. Beet and Carrot Salad with Ginger
It is rich in beta carotene that is beneficial for the eyes and improves the immune system by killing off unhealthy bacteria.
This salad helps to reduce strain during bowel movements because both beets are carrots are rich in fiber that ensure proper movement of waste materials through the intestines thus supporting healthy bowel movement.

Ingredients
1/2 cup of peeled and grated raw beets
1/2 cup of grated organic carrots
2 tablespoon of apple juice
1 tablespoon of virgin olive oil
1/2 tablespoon of fresh minced ginger.
1/8 tsp sea salt
Directions for preparing
Mix grated beets and carrots in a small bowl.
Mix olive oil, ginger, salt and apple juice in a separate bowl then sprinkle over the salad mixture.
Also, beets and carrots together with other ingredients like onions and garlic can be added in a food processor to make beet and carrot soup.
Main Dishes
Time to fill our stomach while shrinking that cursed swelling.
3. Beet and Carrot Soup
According to one study, beetroot can make you run faster and lowers blood pressure. Beets and carrots are both rich in fiber that helps to treat constipation that is one of the major causes of hemorrhoids. The high fiber softens stools and ensures healthy bowel movements, which reduces strain that can worsen hemorrhoids.
Ingredients
3 peeled and diced medium beets
1 tablespoon of olive oil
1 cup of chopped onion
6 cups of vegetable stock
1 pound of diced carrots
1 tablespoon of diced ginger
1 minced garlic clove
Directions for cooking
Add oil in a heated pan and add onions. Cook until they turn golden brown then add ginger and garlic while stirring frequently.
Add beets, carrots and vegetable stock and cover. Reduce the heat to simmer, until the carrots are tender (25 minutes).
In a food processor, puree food I batches and taste to adjust seasonings.
Serve hot or cold.
Alternatively, both carrot and beet can first be roasted.
4. Fully-Loaded Sweet Potato
They have more grams of natural sugars than the normal potatoes but more overall nutrients with fewer calories. Sweet potatoes have fiber, anti-oxidants, vitamin A and C that help to repair the damaged skin induced by hemorrhoids.
Also, garlic has anti-inflammatory properties that reduce inflammation in the anal area and improve the immune system.
Ingredients
1 sweet potato
1 garlic clove
2 tablespoons of olive oil
1 teaspoon of brown sugar
Grated cheddar cheese.
Directions for cooking
Add olive oil and garlic to a pan and heat for a few minutes.
Remove garlic and cook potatoes in the pan until they brown.
Place the potatoes on a plate and add garlic, brown sugar and cheddar cheese.
Sweet potatoes can be steamed, roasted, fried or even baked.
5. Stir-Fried Asparagus with Quinoa Noodles
Asparagus is widely cultivated as a vegetable and a good source of fiber, vitamins, chromate, thus a good vegetarian option. It is rich in inulin fiber, which helps to treat constipation by softening stools enabling less straining of hemorrhoids during bowel movements.
Ingredients
2 bundles asparagus, washed, trimmed, and cut into bite-size pieces
1 tablespoon of olive oil
3 tablespoons of fresh minced ginger
2 garlic cloves
1 tablespoon of soy sauce
1/2 tablespoon of sugar
3 1/2 tablespoons of vegetable stock
12 oz of dried quinoa noodles
Directions for cooking
Heat oil in a pan then add ginger and garlic, stir for a minute then add asparagus.
Mix soy sauce, sugar and stock in a bowl then pour over the asparagus. You can simmer for 3-5 minutes until the asparagus is tender.
Cook noodles and serve with the fried asparagus.
Alternatively, quince jam and walnuts can be used with asparagus instead of quinoa noodles.
6. Romaine and Smoked Salmon Salad
This particular dish contains romaine lettuce and carrots, two ingredients with enough fibre to treat constipation by softening stools. The salmon fish is good for treating chronic constipation because it can easily be digested by the body. This helps to reduce straining during bowel movements that would have worsened hemorrhoid symptoms.
Ingredients
1 small head organic romaine lettuce
5 ounces of thinly sliced smoked salmon
2 diced tomatoes
4 sliced radishes
1 diagonally sliced organic carrot
½ peeled and diced cucumber
Juice of half a lemon
1 teaspoon of peeled and minced fresh ginger root
1 tablespoon of canola oil
Directions for preparing
Arrange romaine lettuce on two plates. Top with salmon, tomatoes, radishes, carrots, and cucumber.
Shake lemon juice, canola oil, and minced ginger in tightly covered jar then pour over salad.
Avocado can also be added to the romaine salad to make the salmon and avocado romaine salad.
7. Egyptian Spiced Chicken
It is an easy chicken recipe full of flavor that can be executed within a short period of time.
Spiced chicken is normally prepared with an Egyptian spice called cumin or aphrodisiac which contains thymoquinone that has anti-inflammatory and antimicrobial properties.
This makes it good against inflammation from hemorrhoids.
Ingredients
Toasted cumin
Coriander
Garlic
Pepper flakes
Cilantro
Olive oil
Lime juice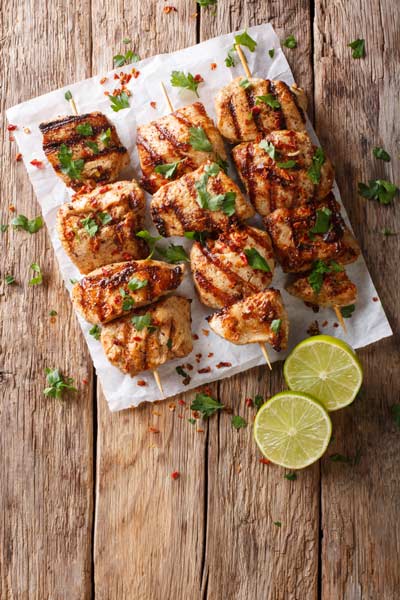 Directions for cooking
Toast the cumin and coriander seeds in a dry pan until they are toasty then remove them from the heat and crush them a bit.
Add the spices back on the pan together with all other ingredients.
Rub the ingredients on the chicken and place it in a freezer for 30 minutes to marinate.
Remove the chicken from the freezer and fry it on the pan.
You can serve with fried avocado and fried potatoes.
Cumin spices can also help to alleviate insomnia, asthma, anemia and boils.
8. Wholewheat Pasta with Nettle Pesto
Nettle leaves are edible with nutrients that help strengthen blood vessels and maintain arterial elasticity. They contain fibers that soften stools thus reducing constipation that would strain the annual area and worsen hemorrhoid symptoms.
Ingredients
2 cups of blanched young nettle leaves
4 peeled garlic cloves
1/3 cup of chopped walnuts
1/3 cup of grated Parmesan cheese
1/3 cup of virgin olive oil
12 oz dried wholewheat pasta
Directions for cooking
Add nettle leaves, walnuts, and garlic in a food processor and process to the desired consistence while gradually adding olive oil. Stir in grated Parmesan cheese.
Cook pasta according to instructions then drain it.
Put back in the pot and stir in nettle pesto.
Transfer to serving plates and eat as desired.
It can also be made with toasted pine nuts and lemon. Also, pregnant women can only take nettle tea made from leaves not the root as it may affect the uterus.
9. Veggie Burgers
This is one of the most effective foods for treating hemorrhoids. Veggie burgers constitute beans that are rich in fiber which helps to soften stools that results in less straining during bowel movements. Constipated stools strain the annual area that worsens hemorrhoid symptoms.
Ingredients
2 cups of chopped mushroom
2 eggs
1 clove of minced garlic
Cilantro
1 chopped onion
1 cup of cooked and drained beans
Salt and cayenne pepper to taste
1/4 cup of wheat germ
Directions for cooking
Heat olive oil in a pan and add onions. Add garlic and mushrooms after the onions brown then wait for a few minutes until they are properly cooked.
Mash the beans and make sure they have no large lumps then add to the pan.
After all the ingredients are properly mixed, remove the pan from the fire.
Use wheat germ to roll them in and forming burgers.
10. Mexican Pasta
Traditional pasta dishes in Mexico have Aztec, Mayan, and Spanish flavors. It also includes black beans that are rich in fiber that treats constipation and hemorrhoids. Fiber helps to soften stools and increase their bulk which results in less strain during bowel movements as increased annual strain can worsen hemorrhoid symptoms.
Ingredients
1/2 pound of seashell pasta
2 tablespoons of olive oil
2 chopped onions
1 chopped green bell pepper
½ cup of sweet corn kernels
1 can of drained black beans
1 can of peeled and diced tomatoes
¼ cup of salsa
1 ½ teaspoons of taco seasoning mix
Salt and pepper to taste.
Directions for cooking
Add pasta to a pot of boiling salted water and cook the pasta until al dente, then drain.
While the pasta is cooking, add olive oil to a heated pan then add onions and heat till they are light brown. Add in corn, black beans, tomatoes, salsa, olives, taco seasoning, salt and pepper and heat till ready.
Mix sauce with pasta and serve.
Desserts
A little sweet-treat to ease our pain!
11. Scandinavian Blueberry Soup
Blueberries contain both soluble fiber like pectin and insoluble fiber which softens your stool, helping to avoid straining that can worsen hemorrhoid symptoms.
In addition, the high concentrations of anthocyanins in blueberries can help repair damaged proteins in blood vessel walls that promotes a healthy vascular system.
Ingredients
4 cups of blueberries
2 cups of water
1/2 cup sugar
4 tablespoons of potato starch
Directions to use
Add blueberries, sugar and water into a saucepan and boil.
Mix potato starch with a few drops of water and add into the blueberry mixture and stir.
Reduce the heat and stir until the mixture thickens.
Pour into a serving container and drink immediately.
You can also sprinkle the soup with some sugar and cool it in the fridge, then serve chilled as an appetizer.
12. Apple Slices with Cinnamon
This is perhaps the easiest and quickest desserts to prepare and even better, it contains only 95 calories. Eating apples can help treat hemorrhoids because apples contain a lot of pectin fiber, which prevents constipation by absorbing water in the colon. This enables softened stools helping prevent straining during bowel movements, which can worsen hemorrhoids.
Ingredients
1 sliced medium apple
¼ teaspoons of ground cinnamon
Directions for preparing
Place the apple slices on a plate, sprinkle with the cinnamon and eat immediately.
Alternatively, onion soup can be used instead of ground cinnamon. Eating apples can also reduce the risk of developing cancer, diabetes, heart disease and can aid with weight loss.
Food for Thought?
Eating foods that are high in fiber such as beans, chickpeas, fully loaded potato, among others is sustainable way of treating hemorrhoids, that are mainly induced by constipation.
On top of that, a high fiber diet has other benefits like reducing the risk of obesity, heart disease and diabetes too.
You would also want to incorporate hemorrhoid exercises, or use home remedies such as aloe vera and garlic to enhance the healing process.
What recipes have you tried that worked for you? We'd love to hear you in the comments below!